Welcome to the Touhill
While keeping in mind the mission of creating opportunities for the people of our region to experience, appreciate, and embrace the transformational power of the performing arts, the staff at the Touhill Performing Arts Center at the University of Missouri - St. Louis manages several collaborative relationships and programs that, along with campus and community partners, bring together a diverse season of dance, theatre, music, festivals, and special events.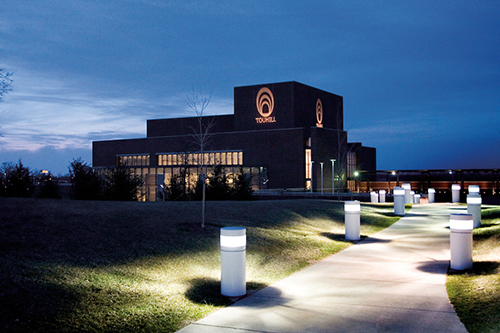 Ticket Office Hours:
Monday: 10am - 6pm
Wednesday: 10am - 6pm
Friday: 10am - 6pm

The ticket office is open on event days 2 hours prior to showtime.
To purchase tickets, please call the Touhill Ticket Office at (314) 516-4949 or go to Touhill.universitytickets.com.
Upcoming Events
Arianna String Quartet:
Series 2 with David Halen

Friday, September 29, 2023
at 7:30 pm

October 6-8, 2023

Friday, October 27, 2023
at 3:00 pm

Saturday, October 28, 2023 at 7:00 pm

Dance St. Louis: Trinity Irish Dance Company

Saturday, November 11, 2023 at 7:30 pm

Thursday, November 16, 2023 at 7:30 pm

Saint Louis Ballet:
The Nutcracker
&
The Nutcracker: A Shorter Tale

November 25-26, 2023
& December 15-23, 2023

Menopause The Musical 2:
Cruising Through 'The Change'®

Wednesday, February 21, 2024
at 7:30 pm

Saturday, June 1, 2024
at 7:00 pm

St. Louis Symphony Orchestra 23/24 Season

The Touhill is pleased to welcome the acclaimed St. Louis Symphony Orchestra for a portion of it's 23/24 season.

 CAUTION:
Some events are selling tickets through external ticket vendors. If you have questions about which vendor is the verified seller on an event, call the Touhill Ticket Office at (314) 516-4949.

 
If a ticket was purchased through an unverified third-party seller, we are regretfully unable to provide assistance should a problem arise.
About the Touhill
Rent the Touhill
Our Spaces
Tech Information
Catering
View costs
Make a Payment
Submit an inquiry
Explore The Touhill Further